Your home is one of the most important spaces you spend time in. It's where you relax, hang out with family, cook and simply enjoy life. 
Ensuring every room is exactly what you want, created to suit your needs and your lifestyle, is what Interior Design By Elise specializes in.
Where the Vision Is Yours!
Elise also offers her services to offices, hotels, restaurants and stores. If you're looking to create a better workspace or attract more business, Elise understands how to make any space beautiful. Learn more about our services in Brantford and surrounding areas.
To find out more, contact Elise today. You can also phone Elise directly at 519-756-4242.
Commercial, Residential & Beyond
Colour and design consultations, coupled with expert flooring and countertop selection are just some of the services offered. Elise is a certified interior decorator, and through Carrillo Carpets she has spent almost 10 years in the business specializing in:
New home selections
Bathroom renovations
Residential and commercial design
Professional flooring
Home staging consultations
Personal shopping
And more!
Set up a home staging consultation with Elise to determine your vision. With every meeting you will be given a detailed plan about how to make your ideas shine. Using e-designs and computerized furniture layouts, Elise will give you a clear idea of what your space will look like and give you plenty of time to modify the plans to your preferences.
To see some of the professional results and get inspiration for your own project, like the Facebook page!
INTERIOR DESIGN BY ELISE BY CARRILLO CARPETS
Elise is a Certified Interior Decorator with a background in New Construction. She works for home builders selecting finishes, from lighting to flooring for new builds, as well as furnishing whole homes to create a custom look for each client. She has also specialized in designing model homes for builders. In addition, Elise works with existing residential clients to re-design their homes – from designing a living room and working with existing elements the client has, as well as adding her special touch to update the space by bringing in new items from her designer to the trade only suppliers.

Get started by contacting Elise today!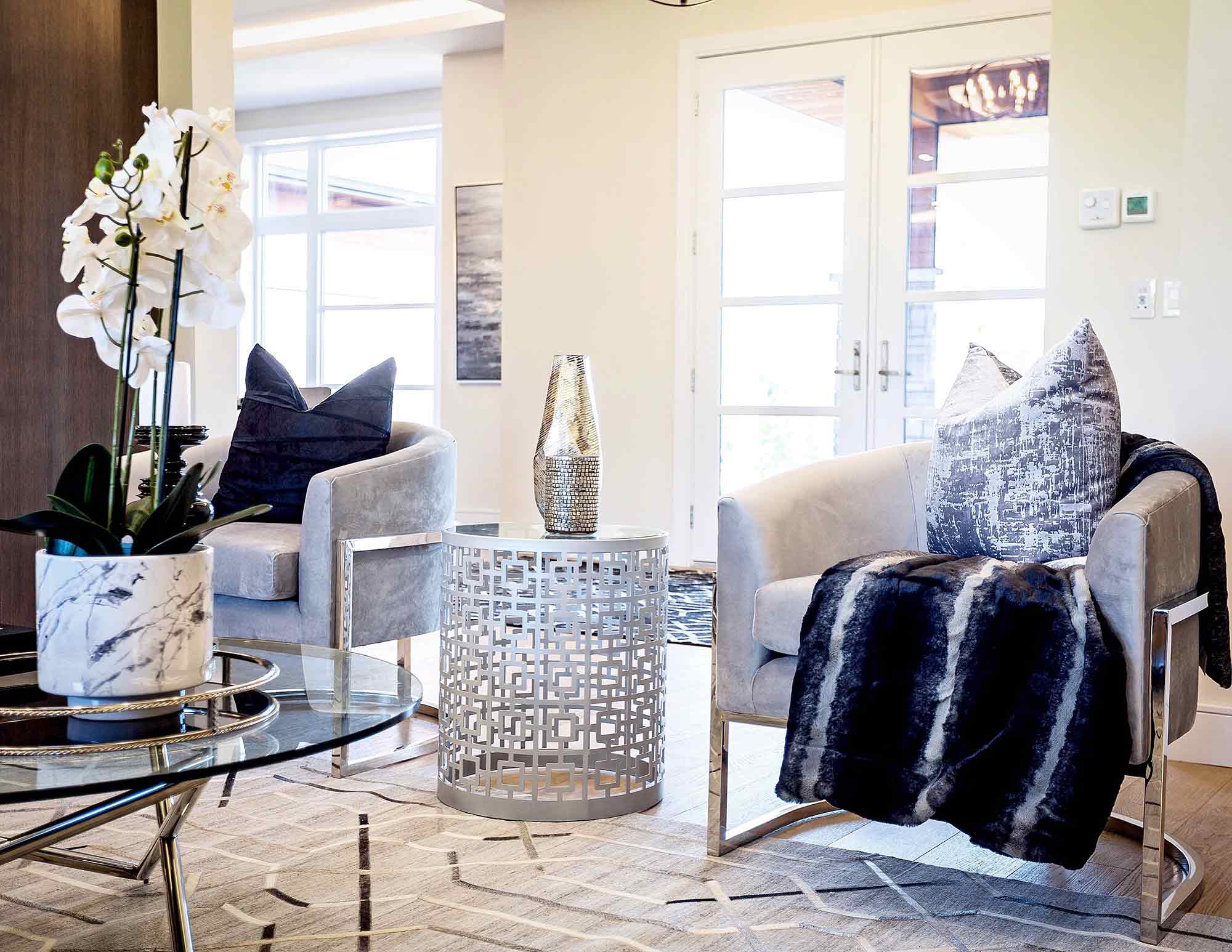 Elise offers a wide variety of design services to help you complete your dream project for your space. Consultations and detailed design planning will be incorporated in every step of the process. Colour, lighting and flooring are all part of what Elise has an eye for.
To find out how you can make your interior spaces more functional and fashionable, contact Elise today!
Whether you're looking to remodel your kitchen or bathroom or need advice about new flooring, you can trust the experienced eye of Elise to envision a space that you'll be happy to spend time in!
Click on the photos below to enlarge them and get ideas for your next home design project. Contact Elise today to get started.
Contemporary Condo Living
Contact Elise Today For Your Consultation
Let Elise help you create a vision for a renewed space that you'll be proud to show off and enjoy! From flooring choices to helping you best arrange your furniture, Elise has close to a decade of experience enhancing homes.
Evening appointments available for your convenience | Saturday by appointment | Closed Sundays